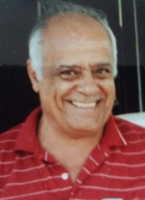 Joseph F. Pezzimenti
Pezzimenti, Joseph F.
Formerly of Angola, NY. Passed away Friday August 9, 2019 in Hope Health Care Hospice of Ft. Myers Florida he was 93. Beloved husband of the late Carrie Pezzimenti; loving father of Frank Pezzimenti.
This is a tribute to a great man who recently passed at 93--Joseph Pezzimenti. He was widely known around the Angola area having moved here in 1958. As a pioneer in the early days of Evans he pushed for basic improvements on Kennedy Ave such as street lights, gas and city water.
In spite of a severe disability stemming from a WWII injury he had a strong work ethic and kept busy with odd jobs including his passion for antique cars(like his 37 LaSalle) and could be seen tinkering with cars at Hank Pinto's garage and later at the Derby Body shop.
Additionally he volunteered daily for 10 years at the Lake shore Nursing Home where his wife was a resident. He worked so hard and was so well liked and respected that he was honored with a Volunteer of the Year award and dinner. He always gave 110%
Personally he was an eternal optimist, kind, patient, caring, dedicated, loyal, always a smile and most of all self sacrificing. He did whatever he could to help others and provided so tirelessly for his wife and son. As a result of his lifelong injury and other disabilities he suffered but with a stoic grace and rarely a complaint. That's just the kind of man he was.
I'm proud to be his son and proud to call him my friend, companion, teacher and my Dad. You will be forever missed and forever loved. Frank Pezzimenti
ARRANGEMENTS BY THE ADDISON FUNERAL HOME, INC.