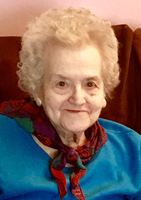 Theresa Jerozal
Jerozal , Theresa (nee Ricci)
Jerozal , Theresa (nee Ricci)
of Angola, NY entered into rest November 10, 2019, Age 87. Wife of the late Raymond F. Jerozal; dearest mother of Kathy (Steve) Myones, Debbie (Patrick) Villa, Raymond F. Jr. (Heidi), John R. (Connie) and David M. Jerozal; sister of the late Anna (Frank) Barone, Rose (Joseph) Faraci, Jennie (John) Azzarella, Angelo (Mary) Ricci, Nicholas (Blanche) Ricci and Joseph (Genevieve) Ricci; grandmother of Cheryl (Luke) Jerozal-Meisenheimer, Rachel and Jonathan Jerozal.
Theresa was devoted to her family, her Church, and her friends. In between raising her 5 children, she was very active in the MPB Rosary and Altar Society holding the President, Vice President and Treasury roles. She was often the top seller of the 50/50 tickets and took pride in getting them sold to help the Church. She loved God and her Most Precious Blood Parish. She happily helped with all the activities, fundraisers, dinners, dances and anything that was needed…..she did it all! She belonged to the Home Bureau and was a master crafter and excellent at crochet. She belonged to the Prayer Shawl group and made shawls for the sick. She lovingly crocheted beautiful blankets, scarfs and pot holders and gave them as gifts from her heart. She was excellent at the plastic canvas yarn art and made tons of every design you could think of for Christmas ornaments and of course Bills ornaments and wall hangings too! Her favorites were making the tissue box holder for new babies in adorable kids designs!
Theresa finally learned to drive when her husband Ray was called to Heaven years ago. She joined the "Low Stress Club" at Connors Hot Dog Stand down the lake and she gathered there with her friends almost every night in the summer. They had a special table in the back they always sat at and even had a Low Stress Club sign made. She really enjoyed talking and laughing with her friends and hanging out at Angola on the Lake.
Theresa was a warm and sweet lady who welcomed everyone into her home and made them feel like family. At dinner time, everyone was always invited to join in. She was famous for her spaghetti and sauce on Sundays….her meatballs were the best! My Dad would always "steal" some on Sat nights after his cards games with the guys! Also she was known for her steak "roll ups" in gravy, tuna noodle casserole and of course polish sausage for Dad on Christmas Morning! She was a second Mom to many over the years. She was greatly loved by all and will be missed by so many near and far.
Family will receive friends Tuesday, November 19, from 4-8 PM at the Addison Funeral Home Inc. 262 N. Main Street, Angola, NY where prayers will be said Wednesday, November 20, 2019 at 9:30 AM followed by a Mass of Christian Burial at 10 AM in Most Precious Blood Church, Angola, NY. In lieu of flowers donations can be made to Most Precious Blood Church.