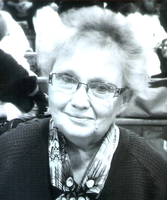 Deborah Fulton
Fulton, Deborah (nee Szal)
Of Angola, NY, passed in peace on Thursday November 14, 2019, after a long battle with cancer, she was 70. Beloved wife of William Fulton; loving mother of Corrine (John) Webb and Keith (Jeanette) Fulton. Sister of Sherry Hawes, Cynthia (Raymond) Gallman and Anthony (Cindy) Szal Jr. Cherished grandmother of Dustin, Devin (Quynh) Danielle (Zach), Mikayla, Darien and Jaiden. Gigi of Emilia.
Born to Anthony and Ann (Lerczak) Szal, Deborah was a member of one of the original families of Angola. She was cherished by her younger siblings, and by her many nieces and nephews.
Deborah was not a stranger to hard work, from starting out at Lerczak's Tavern at age 13, until her retirement at age 55 from the NYS State Thruway Authority. She was easily loved by the many friends she made wherever she went.
She found and married the love of her life William on February 12, 1966, and together they were the roots of a strong and large family tree. A matriarch to the core, Deborah never had an empty nest. All were welcome at home and hearth. She loved deeply and was, so, very deeply loved, in return by her entire family. She never had to fight alone.
Friends may call Monday from 6-8PM at the ADDISON FUNERAL HOME, INC. 262 N. Main St. Angola, NY. A Mass of Christian Burial will be held Tuesday at 10AM in St. Anthony's Church, 421 Commercial St. Farnham, NY. PLEASE ASSEMBEL AT CHURCH