Business History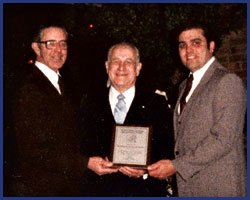 1984: 100th Anniversary Recognition by Evans-Brandt Chamber of Commerce. (L-R: Donald Heimburg, Jene Heimburg, Jay Addison)
The business presently known as Addison Funeral Home Inc. was established in 1884 by furniture store owners Joseph Froehley and Jacob Friend. In 1908 two sons of Joseph Froehley, Charles and Phillip entered the business and operated as J. Froehley and Sons Furniture and Undertaking from 30 North Main Street, Angola, NY for nearly 50 years.
Nephews of Charles and Phillip Froehley, Jene and Donald Heimburg joined the firm in the late 1930's. In 1957 the furniture and undertaking business was split. The furniture store at 30 North Main was sold and Jene and Donald Heimburg moved the funeral business to its present location at 262 North Main Street. In 1975 The Heimburg brothers changed the name of the funeral home from J. Froehley and Sons to Heimburg Funeral Home.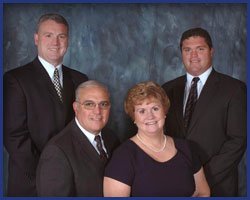 Jay and Mary Addison purchased the Heimburg Funeral Home from Jene and Donald Heimburg, in May of 1981 and added their name to the business in 1984. Randy and Scott Addison, sons of Jay and Mary both earned their funeral directors licenses and joined the family business, Randy in 1987, and Scott in 1992. They purchased the funeral home from their parents in 2012. As well as providing funeral services and the sale of cemetery markers to our community Addison's also provide professional services to many other funeral homes throughout southern Erie and Chautauqua County.